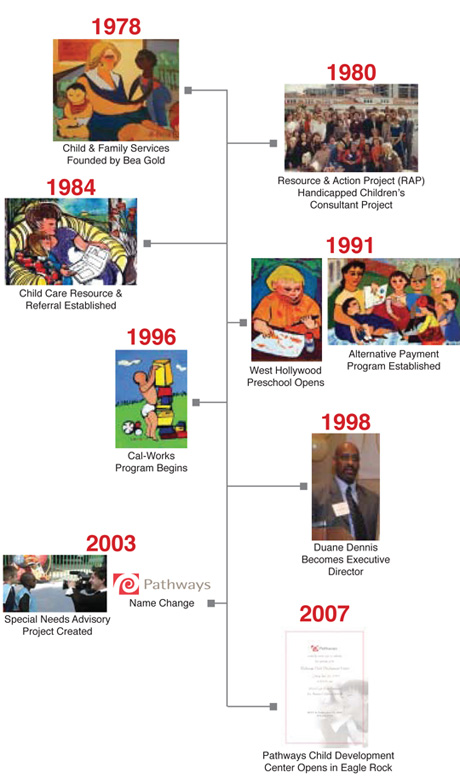 Pathways was founded by educator and activist Bea Gold in 1978 originally as the Children, Youth, and Family Services (CYFS) agency. CYFS was one of the first private non-profit organizations to receive public funding in support of programs for children with disabilities and special needs. The early mission of CYFS was to promote model services to families and children with special needs in early care and education programs with support from various federal, state and local funders. In 1980 CYFS launched the Handicapped Children's Consultant Project, known as the Resource & Action Project, which provided technical assistance to Head Start and other early care programs to improve services for children with handicapping conditions and their families.
In its early years, the CYFS agency's mission was guided by a philosophy reflecting commitments to full inclusion of children special needs in early care and education programs, to strengths-based approaches to responding to family and community needs, and to continuous quality improvement and demonstrating model programs. As CYFS grew from a small staff of 9 individuals in 1978 to over 100 dedicated staff at Pathways today, these early principles have guided the agency's work over three decades. In 1984, CYFS became established as one of ten Child Care Resource & Referral agencies in Los Angeles county, helping growing numbers of working mothers and dual wage earners locate high quality inclusive child care programs, and training the child care work force to accommodate changing community and family needs.
In 1991, CFS (CYFS was renamed CFS in 1988) opened the West Hollywood Preschool Program in partnership with the city of West Hollywood and the Los Angeles County Office of Education. This new initiative was in response to the growing need of low income, working families to access affordable, high quality inclusive child care and preschool education services in the West Hollywood community. In that same year, the Alternative Payment Program was established at CFS with funding from California's Department of Education. The Alternative Payment Program helps working families with low incomes to pay for high quality inclusive child care services in their communities. With the enactment of the CAL-Works program in the state of California in 1996, CFS established the CAL-Works program which helps families receiving public assistance to place their children in high quality child care programs so parents can achieve economic independence through work, job training, and school attendance.
In 1998 Duane Dennis became Executive Director at CFS and was instrumental in charting a new course for the agency that would link its mission and vision with emerging and critical needs in the community. In 2003, with a new name – Pathways – and a growing and involved Board of Directors, Pathways became the lead agency for a multi-year, county-wide initiative that would increase the capacity of child care providers to meet the needs of children with disabilities and special needs in early care and education programs. Entitled SNAP – The Special Needs Advisory Project – this new initiative developed special needs training materials for child care providers and enabled parents to locate and maintain developmentally appropriate child care placements that could adequate meet their children's special needs.
Continuing to support families, communities, and child care providers, Pathways expanded its commitment to providing model programs that address community needs and advance our knowledge of developmentally appropriate practice for children with special needs by opening a new child developmental center in Eagle Rock in 2007. At Pathways Child Development Center in Eagle Rock, children with developmental disabilities learn together alongside their typically developing peers.
As a result of our direct service programs, payment assistance programs, referral and locator services, and provider training activities, Pathways continues to live its mission of helping families access high quality inclusive child care services. With a staff of over 100 individuals who reflect the linguistic and cultural composition of the families we serve, Pathways today assists over 7500 families and children every year in our service area, and continues to support and train over 5000 child care providers. And the principles that guided the creation of Pathways over 30 years ago - inclusion of children with special needs, strengths-based family assistance, and model programs and best practices in early care and education - continue to guide Pathways in implementing its mission and anticipating future needs.